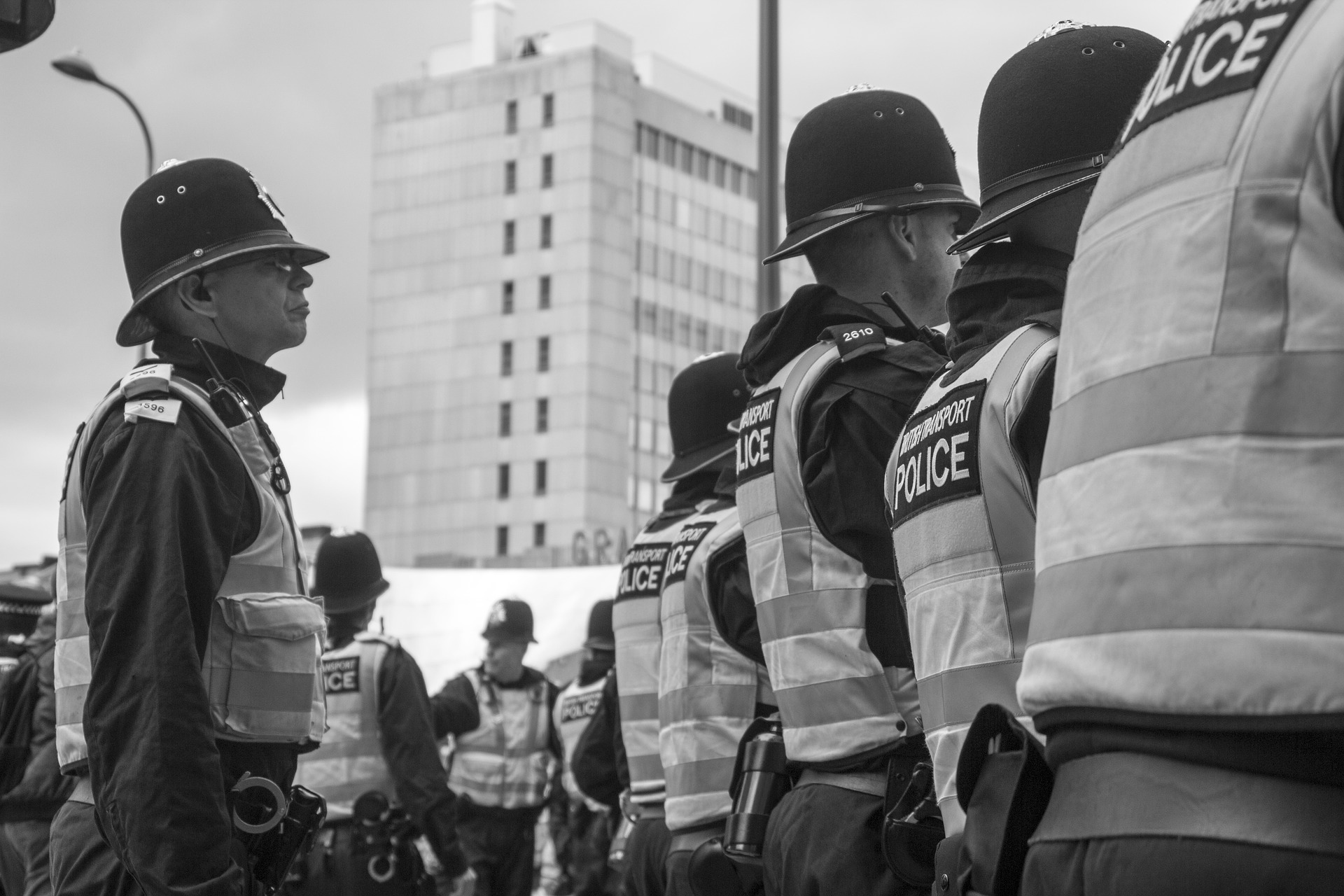 Defunding the Police in an Age of Protest: Reflections from the Activist-Academic-Police Nexus
This online lecture has been organised by the Security, Conflict and Justice (SCJ) Pathway and is open to all ESRC and non-ESRC funded PhD and MA Social Research students within the WRDTP's seven partner universities. Whilst this session has been organised by the SCJ Pathway, students aligned with other interdisciplinary Pathways are welcome to attend if it's themes and content will be of use to you in your research.
Against the current backdrop of policing and protest that has centred on the Black Lives Matter movement, this online event gathers researchers from diverse backgrounds to consider the call to 'defund the police', its wider global significance and the contribution of academic research in contested settings. This training event provides an important platform for reflection on how researchers situate themselves, and are active within, challenging and contested contexts. Academics have been part of protest movements against police violence and made important contributions to police reform and defunding debates. However, research in this field is also increasingly shaped by the drive towards productive police-academic partnership. From collaborative PhD studentships to jointly funded large research projects, close relationships are fostered to better integrate academic research with policing and criminal justice priorities, to promote academic-police dialogue, as well as to foster evidence-based change. Policing in an age of protest raises important considerations regarding the place of the researcher within this activism-academia-police nexus, but it also raises questions of wider relevance. How do researchers position and align themselves in contested settings? What challenges are encountered, trade-offs made, relationships cultivated, responsibilities required when researching charged political and social issues?
This online training event of the Security, Conflict and Justice Pathway is relevant to all WRDTP students whose research is located in contested fields of social/political conflict and embedded (in)justice. It will offer critical insights into how academic research can respond and contribute to pressing societal challenges, as well as how PGRs can be reflexive about their own positions within such processes; from the research questions they ask, to the methods they employ, to the research subjects they engage, to the relationships they build, to the manner in which fieldwork is conducted.
Alex S. Vitale is Professor of Sociology and Coordinator of the Policing and Social Justice Project at Brooklyn College and a Visiting Professor at London Southbank University. He has spent the last 30 years writing about policing and consults both police departments and human rights organizations internationally. Prof. Vitale is the author of City of Disorder: How the Quality of Life Campaign Transformed New York Politics and The End of Policing. His academic writings on policing have appeared in Policing and Society, Police Practice and Research, Mobilization, and Contemporary Sociology. He is also a frequent essayist, whose writings have been published in The NY Times, Washington Post, The Guardian, The Nation, Vice News, Fortune, and USA Today. He has also appeared on CNN, MSNBC, CNBC, NPR, PBS, Democracy Now, and The Daily Show with Trevor Noah.

Ashley Kilgallon is currently the Project Manager of the academic trial 'Turning Point', which operates in the North West Basic Command Unit (NW BCU) of the Metropolitan Police Service (MPS) and is part of a national 'Chance to Change' initiative by the Ministry of Justice. Prior to this Ashley studied to complete her BA (Hons) in Sociology with Social Anthropology at the University of Exeter, her MA in Security and Justice and her PhD, both at the University of Leeds. Her doctoral thesis was conducted in collaborative partnership with the Metropolitan Police Service and focused on 'Performance and Dialogue – An Ethnographic Study into Police Liaison Teams'. Ashley has recently published the first output from her doctoral research in Policing and Society on 'Police Interaction and Notting Hill Carnival', as well as a commentary with Oxford University Press 'Policing in Debate: Activism vs. Academia' (forthcoming) and essays/blogposts for practitioner audiences. Her research has predominantly focused on the Metropolitan Police Service but she has also worked with other forces within England and internationally with Ames Police Department in Iowa USA.

Dominique Walker is a Lecturer at Liverpool John Moores University within the School for Justice, teaching Policing Studies and Policing Communities. For 11 years, Dominique was a Trainee Detective Constable within Merseyside Police, Protecting Vulnerable People (PVPU) Sigma Hate Crime Investigations unit and mother of two children. Dominique has also worked to challenge hate crime and promote equity and fairness in her community and with her family created The Anthony Walker Foundation (AWF), a charity set up after the untimely death of her brother Anthony in July 2005- Dominique is the Vice-Chair of AWF. AWF works to promote racial harmony through education, music and sport. In 2014, Dominique was awarded an Honorary Fellowship by Liverpool John Moores University for her commitment to celebrating diversity, community development and cohesion. Dominique is currently studying for her PhD in Sociology and Criminology at Liverpool University and One of the Founders of the Goddess Projects (TGP), a social enterprise designed to help black women and women of colour to achieve in all aspects of their lives.

Professor Karim Murji is an academic social scientist based at the University of West London, UK. He previously taught at the Open University. His research focuses on race, policing and urbanity and recent publications include 'Stuart Hall as a criminological theorist-activist', Theoretical Criminology (2020), Racism, Policy and Politics (Policy Press, 2017), plus edited special issues of Social Identities on 'Racial Urbanities' (2019) and the International Journal of Sociology and Social Policy on 'Race and Place' (2019).  With Sarah Neal he is the editor of Current Sociology. As well as academic work Karim has worked closely on police governance as an appointed Independent member of the governing body of the London Metropolitan Police, as well as consultancy roles with the National Policing Improvement Agency. He has held additional public roles with the General Teaching Council, a Child Safeguarding board, the Metanoia Institute and other charities.
This training event will:
engage students with pressing contemporary debates regarding police/criminal justice reform, protest movements and racial justice;
encourage students to critically reflect on their own research positionality– particularly when situated in contested fields; and,
stimulate discussion regarding the career paths that PGRs can develop in order to engage with processes of political and social change.
Whilst primarily an academic training event, a core focus of this event is to engage PGRs with how they might collaborate with both activist/protest movements and state/police institutions. All panelists have experience of academic collaboration with activists, NGOs and/or police organisations.
This training event is open to PGRs at all levels of their studies. Its objective of engagement with pressing contemporary issues and critical reflection on positionality in their research is relevant to all PGRs researching contested contexts and sites of conflict
This training session will be delivered via Blackboard Collaborate. 
PLEASE NOTE: Our online training sessions will be recorded and will be available on the VIRE in an edited format for those students who cannot attend. If you wish to join this session but do not wish for your contributions to be included in the edited VIRE resource, please ensure that you select NO when prompted in the online booking form regarding recording.