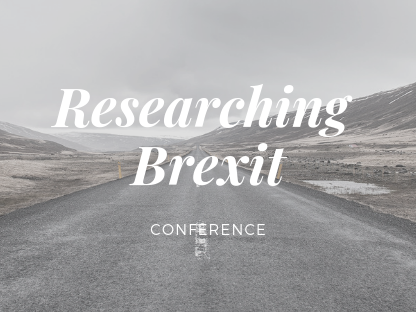 Date
28 Oct 2019
- 29 Oct 2019
Time
8:00 am - 6:00 pm
Researching Brexit Conference
The second Researching Brexit Conference hosted by the Researching Brexit Network will offer researchers the opportunity to consider Brexit from a range of different perspectives. Taking place at the University of Durham on 28-29 October 2019, the conference will appeal to PhD Candidates at all stages of their research. Each panel will consider the different ways Brexit can be perceived both as the object of study, as well as within the research process. From projects which are considering the theoretical dimensions of perspective such as Gender and Brexit, to those who are concerned with the possible demographic perspectives such as Brexit and migrant communities.
The aim of this conference is to give PhD researchers the opportunity to consider how their research fits into a wider community, reflect on their experience of research, share this with others, and lead fruitful discussions. The idea going forward is to form an interdisciplinary cohort of early career social scientists interested in researching Brexit and related issues.
We invite paper proposals from all disciplines from PhD candidates whose research is focused on or heavily influenced by Brexit.
Topics that panels and papers may consider:
Regional perspectives on Brexit
Devolved perspectives on Brexit
Brexit and Marxism
Brexit and Gender
Brexit and Migrant Communities (or a particular community)
The EU's perspective on Brexit
Businesses and Brexit
We are also open to non-traditional panels, bringing in future research ideas, experimental methods, and/or audio-visual media.
These are just a small number of ideas to give a flavour of the nature of the conference, any ideas which bring together multiple papers to present a perspective on Brexit are welcome, in particular panels made up of a mixture of methodological approaches.
The conference will produce a working paper which will comprise reflections from the session panellists and the thoughts of conference attendees. This short guide on the challenges and opportunities of Brexit in academic research will then be launched in Spring/Summer 2020.
Please submit biographies and abstracts of up to 250 words for papers of between 10-12 minutes before the closing date of 30 August to researchingbrexit@qub.ac.uk. You can follow us for updates on researchingbrexit.wordpress.com.